Les Villages Nature, Paris
176A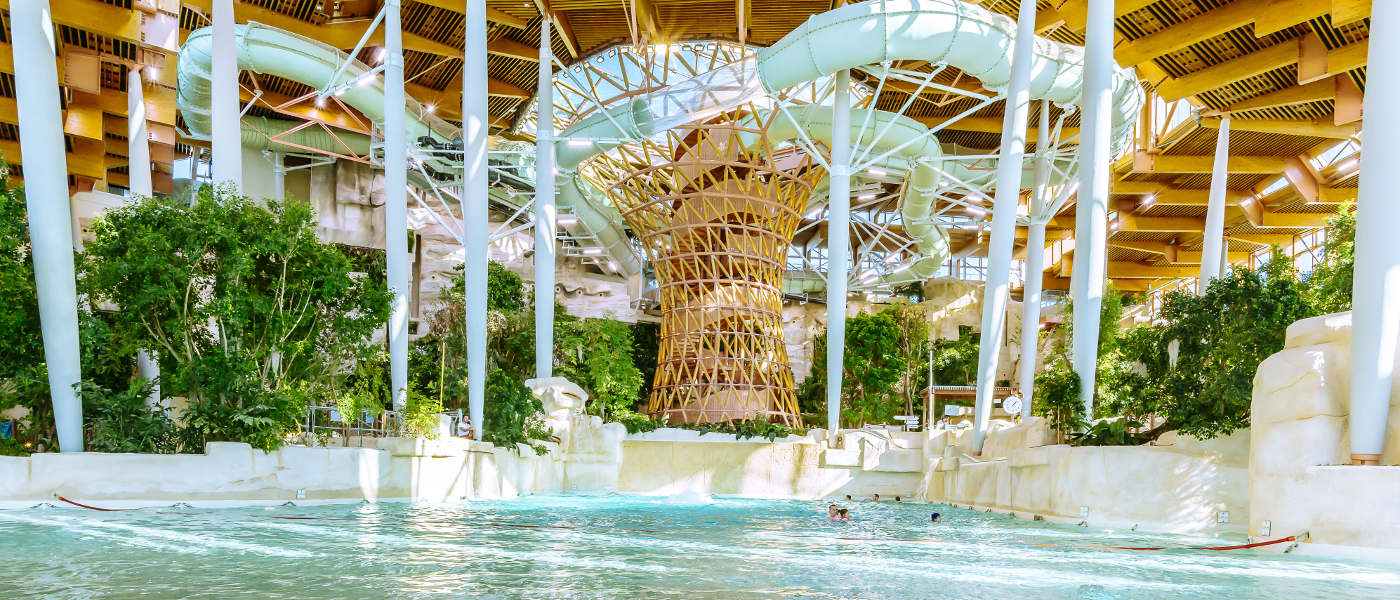 Les Villages Nature - Best Prices for Amazing resort near Disneyland Paris!
Perfect for Disneyland and Paris, Les Villages Nature is a unique new holiday experience - with amazing accommodation and activities, an immense waterpark, all in Europe's largest sustainably designed resort. The perfect blend of city, nature and theme park breaks, just 15 minutes from Disney and with fantastic further transport links.
Better prices than booking direct and only 20% deposit on Disney tickets.
Arrive on Fridays for 3 or 7 nights &  Mondays for 4 or 7
Book With Confidence: Lowest prices & £95 Deposit Option!

Open All Year - Monday or Friday arrivals

Holiday Village: Cottages & Apartments

Paris Charles de Gaulle (CDG) 43km / 40 min

Calais 301km / 3h
6km from Disneyland Paris

Marne-la-Vallee (TGV) 6km / Val d'Europe (RER) 4km

Large size resort

Waterpark
5 Amazing Resort Areas and Disney on your doorstep!
Villages Nature spans 5 fabulous themed areas, all meeting sustainable objectives: geothermal water heating, zero carbon and zero waste targets
Our Price Promise
You shouldn't find lower prices anywhere else! If you do, ask about price-matching.
Beat booking direct for tunnel & ferries.  Guaranteed Sterling prices, no booking fees & ABTA assurance – Winner!
Les Villages Nature Facilities and Activities
Let's just say, no one is going to get bored at Les Villages Nature!! As well as the attractions of the waterpark, Belle Vie Farm and the various forest and garden trails, the resort is full of activities supported by child care teams and experts in everything from flower care and hut-building to cookery classes and bee-keeping!

Free WiFi
Dogs Welcome

Entertainment
Climbing Wall

Disneyland shuttle
Waterslides

Mini Golf
Watersports

Cafes & Restaurants
Tree Top Course
Beach Volleyball
Fitness Classes
Bars
Deep Nature Spa
Cycle Hire
Horse riding

Shopping
Gym
Playgrounds
Bowling Alley
Sauna / Steam room
Jacuzzi

Children's Clubs
Children's Farm
The Perfect Disney Experience
1-Day 1 or 2 Park Tickets
2,3 or 4-Day 2 Park Hopper Tickets

Extra Information
Some facilities may carry additional charges and may be restricted / closed in low season.
Les Villages Nature's Amazing Accommodation
Built to the highest eco standards, Village Nature's fantastic brand new cottages and apartments are integrated into the environment. They're spacious, comfy and welcoming too!
Arrive on Fridays for 3 or 7 nights &  Mondays for 4 or 7
Daily Sun and Temperatures
15°C

April

18°C

May

22°C

June

25°C

July

25°C

August

21°C

September

16°C

October
Other Great Resorts in Northern France