Les Villages Nature, Paris – All The Extra Details
Get the Low-down on the Most Amazing New Holiday Experience in Europe
Les Villages Nature resort is the incredible new holiday destination on the doorstep of Disneyland Paris. Find all you need to know about its amazing waterpark, woodland and water worlds, activities and eateries - plus details of easy access to Disney and Paris!
Les Villages Nature Resort 'Worlds' and Attractions
Aqualagon – An Amazing Watery World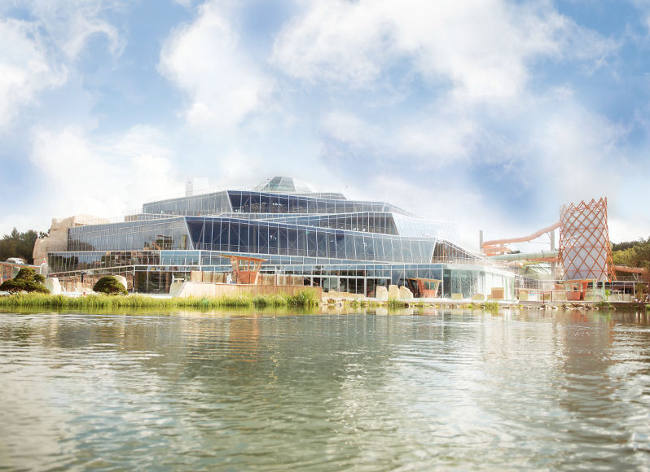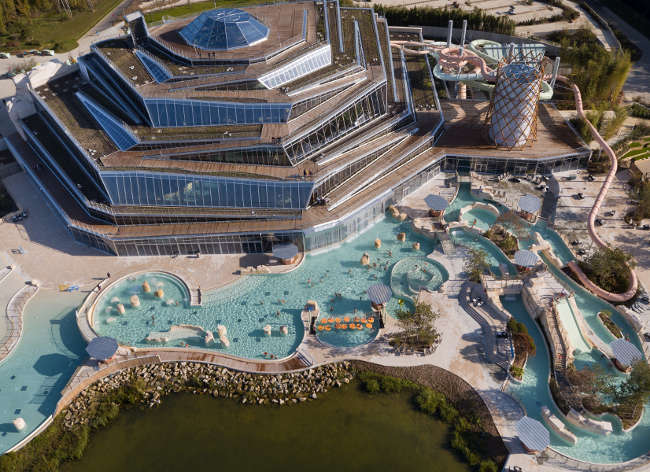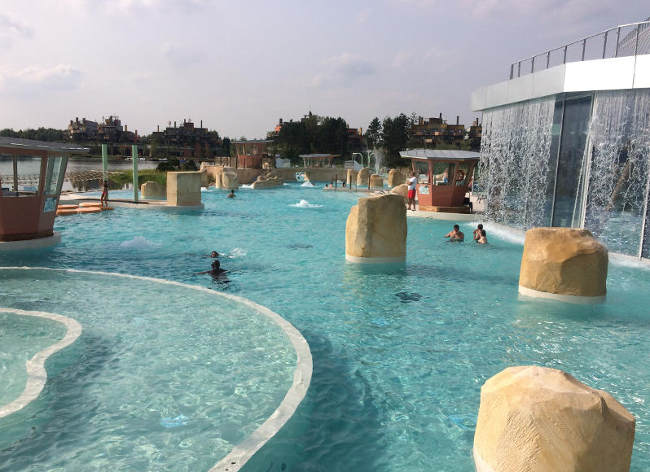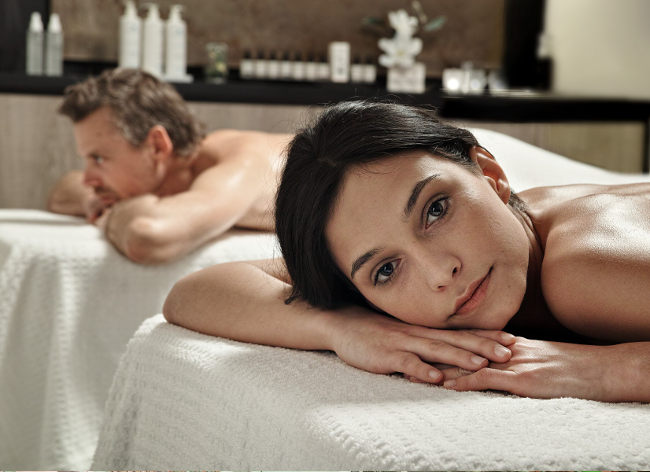 An immense aqua experience – with slides, wave pool, climbing wall, jacuzzis, outdoor lagoons – all naturally heated to 30 degrees and dotted with jets and whirlpools.
Open every day 10am to 8:45pm
Lagon Cafe – serving snacks and treats within the waterpark
Included: Lagoon Pool, Wave Pool, 7 Waterslides, 'The Rock' climbing wall, Water Playhouse, Jacuzzis, sun terraces
Extras: Aqua fit classes, Baby swimming, Baby Massage, Early access, Swimming lessons, Wellness Spa: Salt cabin, Herbal tearooms, Massages & Treatments
Belle Vie Farm – Where Fun Comes Naturally
There's something new on the farm with every season. Feed and care for the animals, take a pony ride through the forest or learn to cook and bake with natural ingredients.
Open every day from 10am to 7pm
Delices de la Ferme café-restaurant
Lait's Play indoor playground with silo slides, haybale trampolines, and tractor bikes!
Included: Animal Care, Family gardening, Play areas, Farm Show, Children's farm
Extras: Pony riding, Bread making, Arts and crafts, Bee keeping, Organic gardening
Adventure Forest & Gardens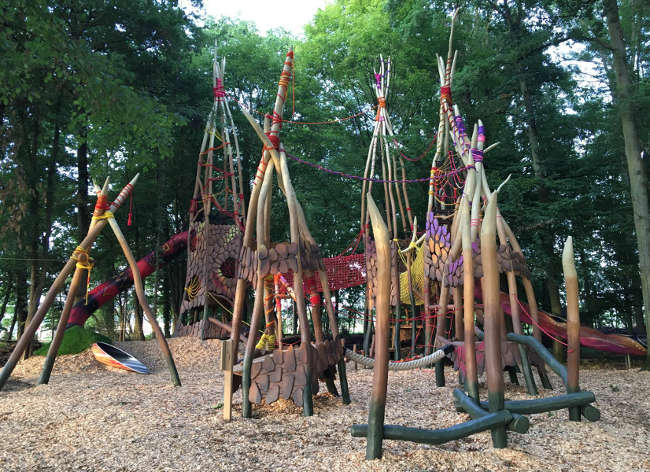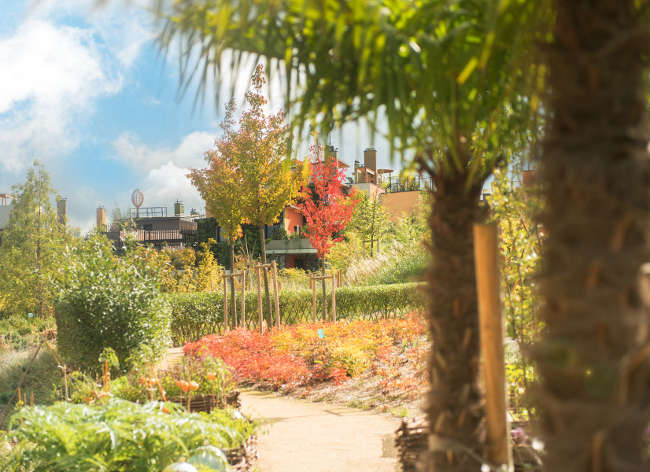 The Forest of Legends and Extraordinary Gardens: 2 magical worlds where imaginations and feet roam free
Legendary Forest with a fantastic playground within
Earth, Fire, Air & Water themed 'Extraordinary Gardens'
Included: Play Areas, Forest Show, Great Outdoors Trail, Meet the gardener
Extras: Mini Golf, Den / Hut Building
Activities Around the Resort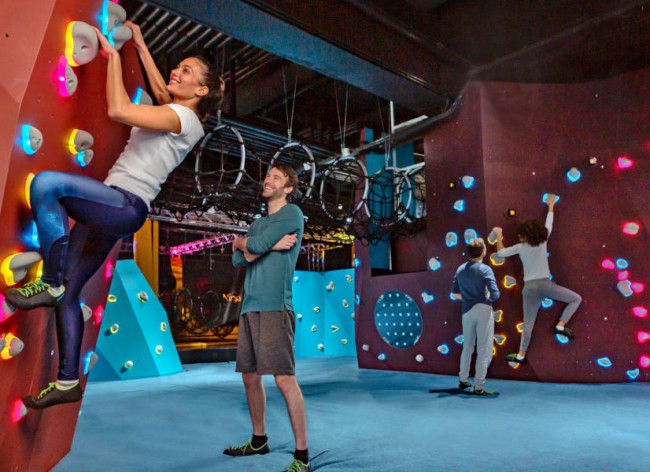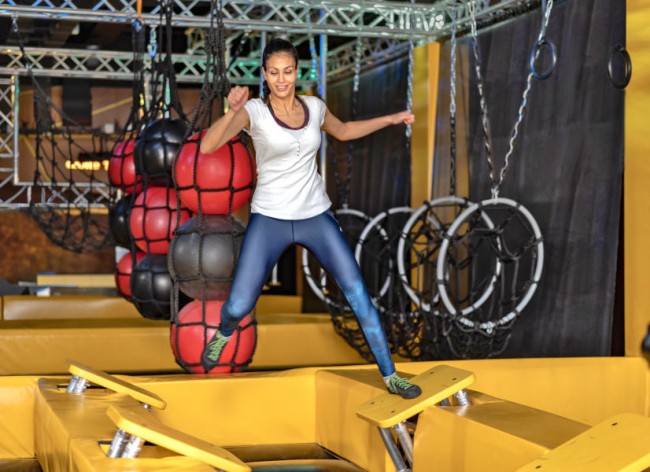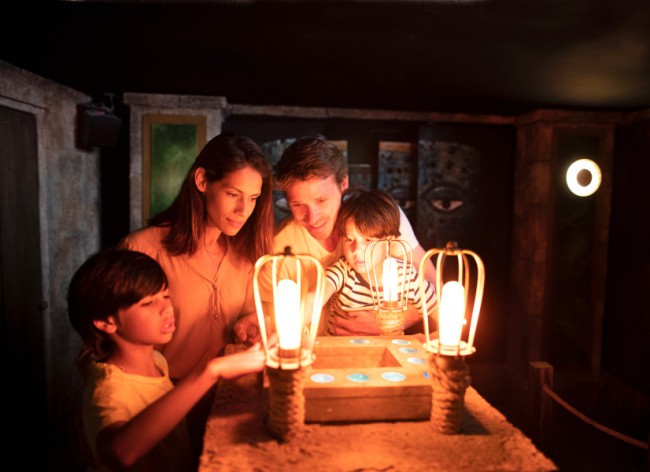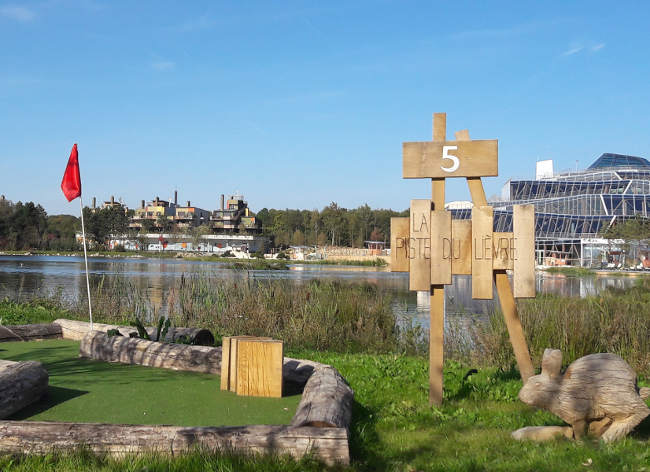 Experience a huge range of activities from the main village, on the lake & in the water & forest worlds
Included: entertainment, concerts, kids disco, storytelling, beach games, multi-sports
Extras: Bowling, wine-tasting, kids clubs, baby club
Extras: Tree-top course, Segways, mini-golf, canoe & boat hire, cycle hire, chariots, golf buggies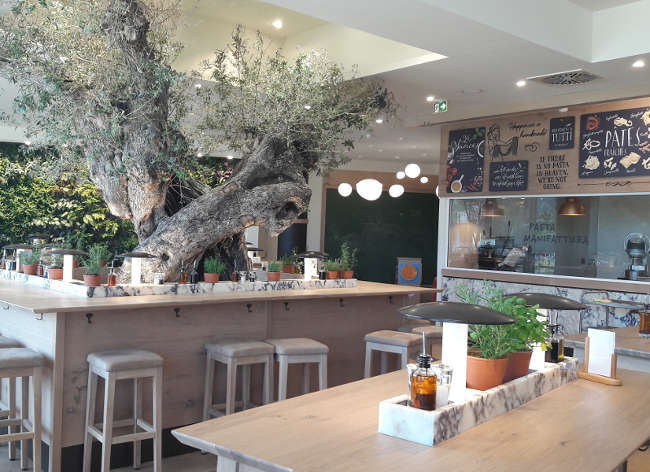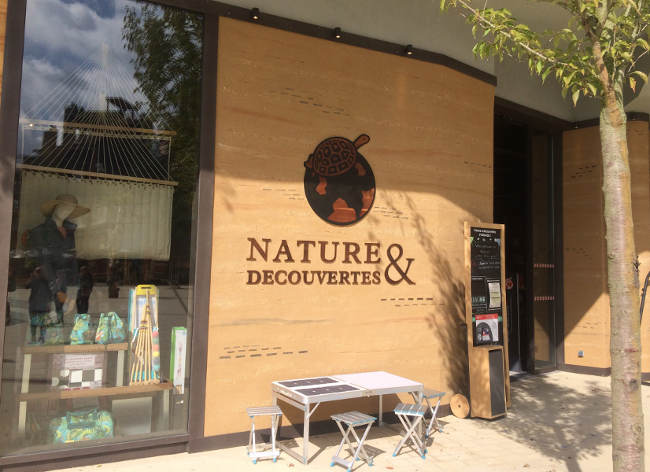 With restaurants, cafes and eateries around the resort, you're never far from something delicious
Options for all tastes and family or romantic occasions
Stock up on all your supplies at the village supermarket & shops
Opening times may vary – check for your dates in the app
Our Price Promise
You shouldn't find lower prices anywhere else! If you do, ask about price-matching.
Beat booking direct for tunnel & ferries.  Guaranteed Sterling prices, no booking fees & ABTA assurance – Winner!
Easy Access to Disneyland & Other Paris Attractions
Just the Ticket!
Discover the Disney experience with great prices for Disneyland Paris park tickets
1-Day 1 or 2 Park Tickets from £44 (age 3-11) / £49 (age 12+)
2, 3 or 4 Day 2 Park Tickets from £136 (age 3-11) / £147 (age 12+)
From only 20% deposit and inclusive ABTA assured financial protection

Super Shuttle Service
Route 47 bus links the Villages Nature resort with Disneyland and Marne-la-Vallee / Chessy train station: up to 4 times an hour, 20 min journey,  €2 per person
Arrive right at the entrance of the 2 Disney theme parks and Disney Village
Regular rail links to central Paris – 45 mins via RER-A, up to 4 services an hour, €7.60 single ticket (€3.80 for age 4-10)
Direct TGV and Eurostar services to Paris, Charles de Gaulle airport (CDG), Lille, Ashford and London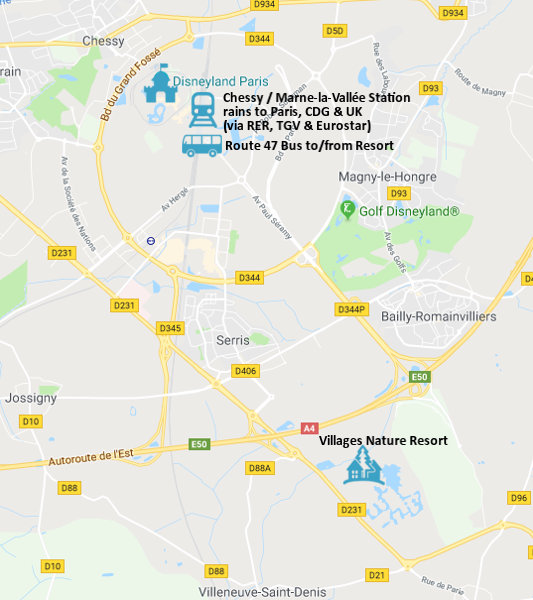 Disneyland Paris Ticket Guide
Disney's range of tickets can be a little confusing, so these simple steps should help explain and find the best tickets for your trip:
Firstly, Ages: 'Adult' tickets apply from age 12 and upward, child tickets apply for ages 3 to 11 and children under 3 years can enter the parks without a ticket or any charge
2,3 & 4 Day 2-Park 'Hopper' tickets: These can be great value, giving unlimited access to the parks with no restrictions on dates. You need to use all the days within a week but they don't need to be consecutive, so you can keep your plans flexible.
1-Day tickets: This is where it gets a little complicated, with 3 different day ticket types on sale in summer 2019: 'Super Magic' tickets are valid on any day of the year; 'Magic' tickets give entry for many weekends and holiday periods and 'Mini' tickets provide great value in quieter weeks of the year.
You can book any of these ticket types with us, at discounted rates, covered by our ABTA financial protection, and with only a 20% deposit for advance bookings.
Les Villages Nature Resort Accommodation Compared
All the accommodation at Les Villages Nature is spacious and equipped to a very high standard. You can see full details of all the cottages and apartments on our main resort page. The little list below highlights the different features and equipment in the 3 main accommodation levels.
| Equipment & Features | Clan Comfort | Country Premium | Cocoon VIP |
| --- | --- | --- | --- |
| Flat-screen TV in Lounge | ● | ● | ● |
| Queen-size bed (160 x 200cm) | ● | ● | ● |
| Safe | ● | ● | ● |
| Hair-dryer | ● | ● | ● |
| Vacuum-cleaner | ● | ● | ● |
| Private terrace with garden furniture | ● | ● | ● |
| Fireplace | | ● | ● |
| Welcome pack | | ● | ● |
| Baby bed and high chair | | ● | ● |
| Separate toilets | | ● | ● |
| Nespresso coffee machine | | | ● |
| Flat-screen TV in master bedroom | | | ● |
| Stereo | | | ● |
| King-size bed (180 x 200cm) | | | ● |
| Jacuzzi spa bath and hydro-massage shower | | | ● |
| Spa kit | | | ● |
The Villages Nature App
After booking, download  the Villages Nature mobile app to see details of events and activities within 4 weeks of your holiday dates.
The app will give the latest opening hours, availability and prices for 'Extra' activities for the specific dates of your holiday – which we recommend you book at the 'Welcome House' upon arrival in resort.
Search for the Villages Nature App in the Apple App Store or Google Play Store for your iOS or Android mobile device.