Soulac-sur-Mer, Soulac Plage
233C
Soulac Plage - Perfect Pools Right on a Brilliant Beach
With a sparkling new pool complex, direct beach access and excellent accommodation, Soulac Plage is perfectly placed for holidays with great weather and easy access, at the northern tip of Gascony. Soak in the sun and sea, learn to surf or explore with day trips to Bordeaux, La Rochelle and the Dune du Pilat.
Book With Confidence: Lowest Prices & £95 Deposit Option!

7 April - 24 September

Camping Resort: Chalets and Mobile Homes

Bordeaux (BOD) 97km / 1h 30 min, La Rochelle (LRH) 101km / 2h

Calais 810km / 8h 50 min, St Malo 409km / 5h 10 min

4km from Soulac-sur-Mer

Medium size resort (700 places)

Direct beach access

4 pools & waterslides
Soulac Plage's Sparkling Pool Complex
Soulac Plage's stylish new pool complex is one of the smartest on the Atlantic coast, with a great combination of attractive pools, waterslides, jacuzzis and hydro-jets.
Male Swimwear Guide
Relax and choose any of the swimwear styles shown as permitted below:
Briefs / Trunks
Lycra
Permitted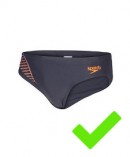 Aquashorts / Hipsters
Lycra
Permitted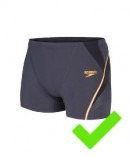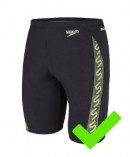 Water Shorts: Short
Cotton
Permitted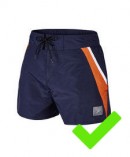 Water Shorts: Medium
Cotton
Not Permitted
Water Shorts: Long
Cotton
Not Permitted
Our Price Promise
You shouldn't find lower prices anywhere else! If you do, ask about price-matching.
Beat booking direct for tunnel & ferries.  Guaranteed Sterling prices, no booking fees & ABTA assurance – Winner!
Facilities and Activities at Soulac Plage
With its fabulous pools and direct beach access (where there's a dedicated surf school) there's already plenty to enjoy, but Soulac Plage has much more to offer...

WiFi
Surf School

Restaurant & Takeaway
Cycle Hire
Bar
Watersports

Mini-market
Archery
Massage & Treatments
Playground

Entertainment

Tennis
Extra Information
Some facilities may carry additional charges and may be restricted / closed in low season.
Soulac Plage's Excellent Accommodation
Our accommodation at Soulac Plage is mostly modern premium units set out in traffic-free zones. The resort also features our fab 'Friends' accommodation and a row of holiday homes with stunning sea and sunset views!
Daily Sun and Max Temperatures
16°C

April

19°C

May

23°C

June

25°C

July

25°C

August

23°C

September

18°C

October
Our other great resorts in Gascony and the Gironde