Five get on the piste in Flaine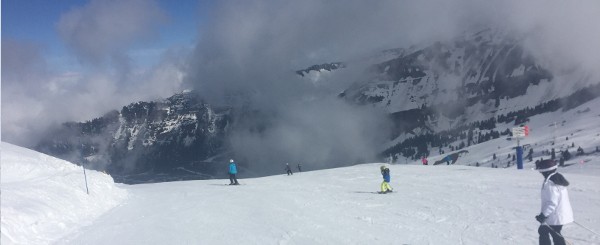 The Easter holidays gave the chance to visit Flaine and the fab Terrasses d'Eos for the first time – part of our 2017 ski season launch discounts.
Here's some advice if you're meant to be writing a blog about a trip. Take a teenager with you and they'll spontaneously make a video of the whole thing, meaning you need to do nothing. So, take a look at my daughter's view of our 5 days in Flaine and I'll just fill in some details afterwards!
5 of us (2 adults, 3 kids) took an Easter ski in Flaine, staying at the Premium Residence Les Terrasses d'Eos. We hired a car for the hour and a quarter drive from Geneva airport (cars hired from the Swiss side of the terminal come with the Swiss motorway vignette). Some smaller parties also found reasonably priced transfers from Geneva. But judging by the mass of British cars in the car park, Flaine is a very achievable drive from Southern Britain. It's certainly one of the closest ski resorts to the channel crossings.
Top Tip: Choosing your own flights or taking the ferry can give you extra time on the slopes, as well as being cheaper than package holidays. We had 7 full days skiing, rather than 6, just by picking flight times and managing our our transport to the airport!
The simple verdict is that Flaine is fabulous and Les Terrases d'Eos and the neighbouring Les Terrasses d'Helios are clearly the 2 best places to stay. Great, well equipped modern apartments, pools, restaurants, shopping, ski hire and direct access from the locker room to the slopes, onto a nice track through the forest which gets you to the main lifts in less than 10 minutes. There's a regular ski bus service for beginners, but even the beginner in our party was skiing down by day 3.
Both residences sit well above the legendary concrete heart of Flaine, close to the picturesque painted wooden chalets of Flaine Hameau. There are many comments about Flaine being ugly. Close-up, the old centre isn't attractive, but you're well out of it at Eos and Helios and from a distance, the old concrete does what it was designed for and just blends into the mountain scenery.
It may be good to stock up at a supermarket before you come up the mountain. If not, the Spar mini supermarket at Helios is very convenient and stocks most things, though the Sherpa down in Flaine Forum has a wider selection and lower prices. The apartment kitchens are well-equipped. We cooked some of the time and as stand-ins for chalet hosts, our teens baked for that fantastic apres-ski fresh cake slice and cuppa (where have my toffee vodka days gone!?).
The service at the residences was great and included nice touches like complimentary marshmallow toasting along with hot chocolate or vin chaud on Sunday and free crepes for the kids in the restaurant on Tuesdays -both around 5pm. English was also embarrassingly well spoken at lift pass kiosks, mountain restaurants and shops and eateries in Forum. Prices were typically raised, in line with the altitude, but portions were good.
A big feature of Les Terrasses d'Eos is the outdoor pool and indoor spa bath, sauna and steam room. These are free and were brilliant to loosen up in after a day on the slopes. The pool would have been perfect a degree or two warmer, but it's a great experience to swim outside in snowy conditions! Les Terrasses d'Helios has an indoor pool and spa area, but still an outdoor hot tub for some alfresco bathing!
The apartments have good sized balconies. We were only on the first floor but had a great South facing view. The views from higher apartments will be even better. With more mobile devices with us than an entire Apple Store, we took the upgraded WiFi (more devices than the basic level WiFi included with Firefly Holidays bookings), which was really quick, which meant teen sanity and the Netflix subscription could be maintained, streaming onto the apartment TV, via the provided HDMI connection.
The Grand Massif ski area is perfect to explore for a week in good conditions. Despite the warming conditions while we were there in early April, the pistes held up very well and the upper slopes were in great shape. The Flaine sector was completely open and we experienced the lovely runs through the trees above Les Carroz and Samoens and could still ski right down to Morillon village, and the charming L'Igloo mountain restaurant just above it.
I was surprised at how little accommodation in Flaine is ski-in/ski-out. In fact, apart from Les Terrasses d'Eos and d'Helios, I only noticed a few small apartment blocks right on the lowest nursery slopes. Eos and Helios also offer the benefit of having ESF lesson meeting points directly outside, with an ESF office and ski garden for beginners at Helios.
For a resort where self-catering dominates, there are plenty of great options to eat out – especially staying at Eos or Helios, as both have good quality restaurants associated with them. We enjoyed L'Eterlou, within Les Terrasses d'Eos and La Table d'Helios on the plaza up at Helios. Both are well presented but informal and welcoming and feature international dishes and local specialities. The Residences also lay on free shuttles in the evenings, which we took down to the restaurants and bars in Flaine Forum, but would also take you to the cinema or bowling in Flaine Foret or a few minutes up this hill to L'Ancolie restaurant in Flaine Hameau.
We hired our ski equipment through SkiSet to take advantage of the additional discount through Firefly Holidays. We used the SkiSet outlet just up the road in Flaine Hameau, in the same building as L'Ancolie restaurant. Alternatively, there's an independent ski hire shop (with a nice upstairs cafe) within the Helios complex.
All in all a great destination for a low-stress ski holiday – easy, comfortable and convenient.
Firefly Holidays already feature the Premium Residences Les Terrasses d'Eos and d'Helios – without doubt the best places to stay in Flaine. For 2017, and also the Premium Residence Les Fermes de Soleil in nearby Les Carroz – a lovely town halfway up the road to Flaine, so 20 minutes closer to Geneva We can combine really fabulous prices for this accommodation with ABTA assured travel, especially for those driving from UK, making even better value.
All photos copyright of Firefly Holidays – but feel free to use or share them if you like!