Porec, Istra Premium Camping Resort
191C
Istra Premium Resort - Croatia's Newest and Best 5-star Camping Resort - taking 'camping' to a new level!!
The newest and only 5-star camping resort on Croatia's mainland, Istra has fab pools and only brand new premium level accommodation. Facilities are second to none, including a cinema and digital games room. With nearly a mile of sparkling Adriatic coastline (and even its own island) it has all you need as a getaway but is in easy reach of Pula, Rovinj and day-trips to national parks and Venice!
Book With Confidence: Lowest Prices & £95 Deposit Option!

Open All Year

Camping Resort : Chalets and Mobile Homes

Pula (PUY) 55km / 50 min

8km from Porec

Medium size resort (875 places)

Direct Beach Access

4 Pools + Waterslides

Free Kids Clubs
Barbeques provided
Dogs Not Accommodated
Istra's Pristine Pools
The Aquamar waterpark is the heart of Istra resort, with 4 heated pools as well as impressive waterslides. The highest spec accommodation also has private pools or hot-tubs!
Male Swimwear Guide
Relax and choose any of the dedicated swimwear styles permitted below:
Briefs / Trunks
Lycra
Permitted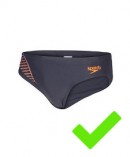 Aquashorts / Hipsters
Lycra
Permitted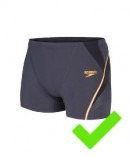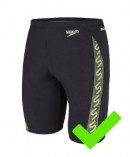 Water Shorts: Short
Cotton
Permitted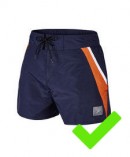 Water Shorts: Medium
Cotton
Permitted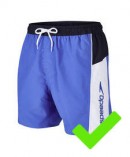 Water Shorts: Long
Cotton
Permitted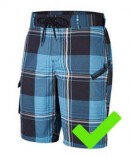 Our Price Promise
You shouldn't find lower prices anywhere else! If you do, ask about price-matching.
Savings on holiday extras, guaranteed Sterling prices, no booking fees & ABTA assurance – Winner!
Istra Resort's Unbeatable Facilities and Activities
Brand new modern resort facilities, surrounded by water-based activities. Kids and teens have access to fantastic facilities including multimedia games room, cinema and themed experiences on 'Histri Island'.

Free WiFi

Entertainment & Cinema

4 Beach Areas
Cycle Hire

3 Restaurants
Wellness Centre
Boat Trips

Kids & Teen Activities
2 Bars
Snorkelling
Walking / hikes
Multi-sports

Takeaway & Delivery
Sauna
Watersports
Waterslides

Supermarket
Digital Games Room
Canoeing
Laundry

Ice Cream Parlour

Mini Golf
Playgrounds
Free Baby Kit
Extra Information
Some facilities may carry additional charges and may be restricted / closed in low season.
Istra Resort's Unmatched Accommodation
Istra Resort has the best accommodation of all our European camping resorts. All accommodation is brand new and of Premium level, with spacious decks and landscaped positions in the very best parts of the resort.
The Best Flights for Istra Premium Camping Resort
Add your own low-cost flights to our fantastic value accommodation to create an unbeatable combination.

To Pula (PUY)
EasyJet: From Bristol, Gatwick, Liverpool, Southend
Jet2: From Birmingham, Edinburgh, Leeds Bradford, Manchester, Stansted
TUI: From Birmingham, Bristol, East Midalnds, Gatwick, Manchester
Ryanair: From Stansted
British Airways: From Heathrow
To Trieste (TRS)
Daily Sun and Max Temperatures
13°C

April

17°C

April

21°C

May

25°C

June

28°C

July

28°C

August

24°C

September

19°C

October
Our Other Great Resorts in Croatia